"We will be known forever by the tracks we leave".
-Native American Proverb
Mike Bird-Romero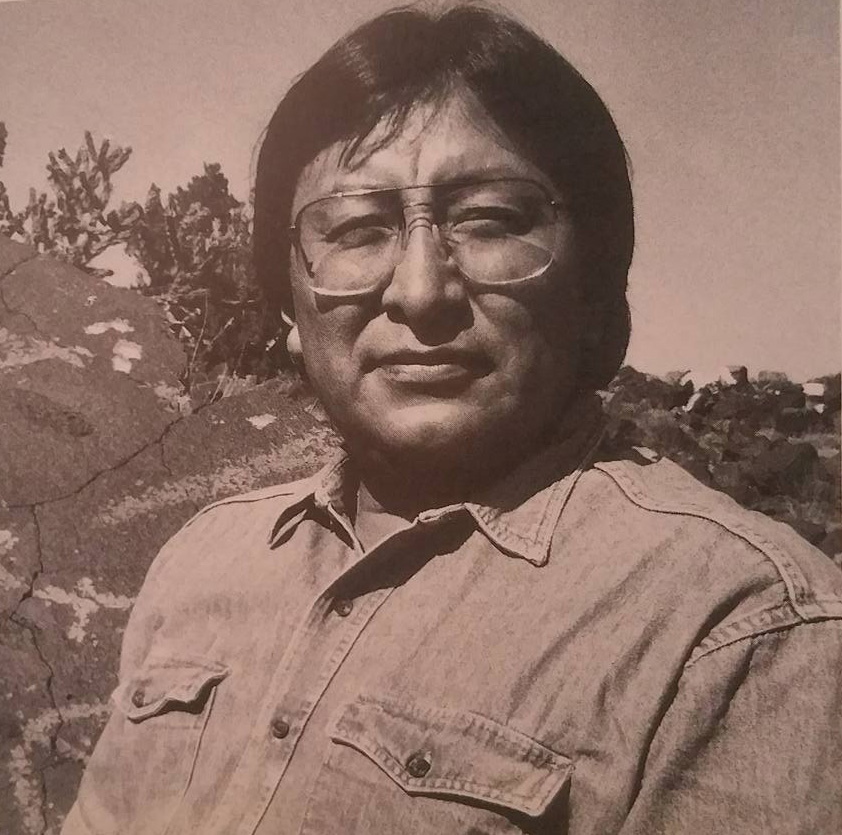 I first became acquainted with Allison Bird, an inquisitive researcher and expert on Native American art, and director of the prestigious Dewey Gallery in Santa Fe. Carol and I became good friends with Allison and her husband Mike Bird-Romero, who at the time was an appliance salesman for Sears. The couple lived at San Juan Pueblo where Mike met silversmiths Mark Chee and Tony Duran, and they inspired and instructed him on how to craft jewelry. In a bold career move, he began to make jewelry full time in the late 70's and right from the start we could tell he had something special, a true gift. His early pieces were quite exceptional and we started buying his work immediately and consistently thereafter. Four Winds Gallery has represented Mike Bird-Romero for his entire career. He is an immaculate, award winning silversmith, who consistently combines the best of traditional designs with a completely unique, innovative personal style. His technique is perfection, his ability is exceptional, and his compositions are determinately beautiful. One of my personal favorites regarding his work is his selection of high quality stones, and his capacity for matching them with exquisite motifs that transcend any one person's idea of what is 'traditional' and what is 'contemporary'. He has an unparalleled intuition of putting colors and forms together, giving his work profound depth and a sophisticated, yet whimsical nature. I am grateful for our lasting friendship, and I am always excited when I get the opportunity to see new work by this master jeweler, Mike Bird-Romero.
Mike's beloved wife Allison Bird-Romero passed away in 2015. She was a brilliant and wonderful person and it is with her precise research and profound insight that we published, "In the Spirit of the Ancestors" together.
In honor of her memory, 10% of all jewelry proceeds from 'Classic to Contemporary, Art of the Pueblos', as well as, 100% of sales of this hardcover publication will be donated to the American Indian Cancer Foundation.
---
Charles King, King Galleries
My original connection to Charles King, was as a colleague with a shared passion for Pueblo pottery. We represented some of the same artists and our paths would cross intermittently, but I didn't really get to know him well until 2006 when I began searching for an author to write the catalog for our 40 year collection of Margaret Tafoya pottery. There was only one person in my mind that would qualify to write this book the way it should be written, Charles King.
I had always admired his knowledge, hard work, perfectionism and style, and I was elated when he enthusiastically agreed to collaborate our efforts for this project. He came to Pittsburgh immediately, and from this point we have developed and maintained a great friendship established upon the respect and admiration for Margaret, shared love for Pueblo pottery, and an appreciation for each other. Opening King Galleries in 1996, Charles has worked tirelessly to represent his artists with reverence and affection, creating an unprecedentedly curated acquisition of pueblo pottery. Writing numerous articles and books, and participating as a judge in many esteemed events, King makes pottery his life's work. Among his numerous gifts and amicable qualities, Charles is a genuine person with a warm heart, and along with his pottery has assembled a phenomenal shoe collection. I am always excited to see Charles, to enjoy gratifying conversation, share information and provoke laughter, and I am always intrigued to see what shoes he is wearing.
How can one speak of the importance of friendship, the necessity of companions and colleagues that transcend the test of time? I will eternally be grateful for my many associations within the Native American culture that have grown to be treasured friendships. My life is continually enriched with the lives of others, and it is an honor to bring these two wonderful people together for an event that celebrates their gifts and pays tribute to their passion.
-John Krena
---