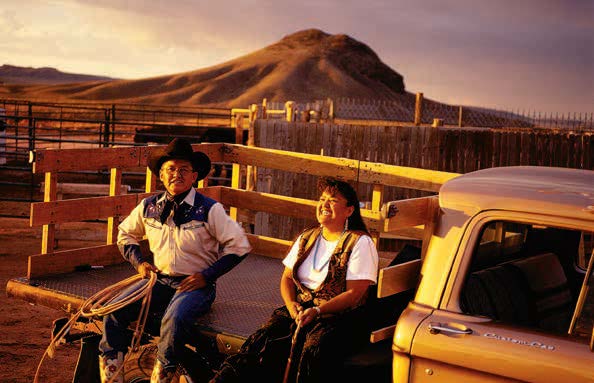 Celebrated silversmith Thomas Curtis shared a special bond with his talented daughter, Jennifer Curtis. She maintains this connection within her exquisite handcrafted jewelry using her father's steel die stamps and the inspirational mark he left on her to be the absolute best silversmith she can be.
"You can make it with your vision, your mind, and your 10 fingers. Everything is right here in your hands." -Thomas Curtis remembers his grandmother offering him her wisdom
"My dad was intelligent, artistic and reserved, and could master anything he put his mind to. He had a hard childhood and came a long way. He is my hero, that is why I always wanted to be like him. We had a special connection, he would call me everyday to see how I was doing, and he would always tell me a joke…I miss these calls. It will be 5 years at the end of this month." -Jennifer Curtis
Thomas Curtis was an award winning, self-taught Navajo Silversmith, a master who pursued his art for over 50years. He is known and loved for his painstakingly beautiful handcrafted precision stamp work in heavy-gauge silver, forging a unique aesthetic that merged seamlessly with his unprecedented craftsmanship to create sophisticated yet stimulating  jewelry.
He had an extreme talent for delicately balancing compositions of deeply embedded traditional designs, generating dramatic results with refined charisma. "I work the way I used to see the old smiths do it. I just picture the outline and I start the piece from the center out." -T. Curtis. Born in 1942 into a family of skilled silversmiths, Thomas observed the secrets of his family's finely crafted silver work and began making traditional Navajo jewelry by the age of 12.
Before committing himself completely to the art of metalsmithing, Curtis was a champion horseback rider and won many awards as a member of the All-Indian Professional Rodeo Cowboys Association preforming bareback, bull riding and saddle bronc. "When I was growing up in the White Cone, AZ area we didn't have a car. In the 1940s most of the Navajo families around us still used a wagon. That meant lots of horses around and I was always riding them at a young age, it was just a way of life." -T. Curtis. The rodeo is where he was given his acclaimed surname, 'Curtis'. Born as Thomas Redhorse, his family name was the source of many jokes while working in the rodeo, and was given the name 'Curtis' by a stock contractor who wished him to be recognized for his riding talent and not overshadowed by a name.
His accomplished daughter Jennifer, working today as a master silversmith, has also adopted the 'Curtis' alias  and signs her jewelry Jennifer Curtis in honor of her father. After somersaulting backwards off of a horse and injuring himself in 1969, Thomas left the rodeo to pursue his craft as a silversmith full time.
Thomas grew up observing his uncle who was a blacksmith and had a business repairing wagons. "It was like today's car garage, he had wagons lined up. I would help him, I was fascinated by all of the tools and I had an interest in working with metal." Curtis elaborated on his fascinations with blacksmithing while working in the rodeo, and they continued into his jewelry making career by handcrafting the hardened steel die stamps that identified him as one of the premier Navajo silversmiths of his time. He believed an artist should be a part of every process in the creation of their work, and he took monumental pride in the art of the making his own die stamps for his harmonious arrangements. Jennifer says,"He knew how to temper metal and make a good stamp. This is not an easy task. If you make them correctly, they can last a very long time. Some of his stamps that I use in my work are older than me."
The beauty found in nature plays an important role in Navajo daily life, and Curtis was often quoted finding inspiration for his pieces by, "looking at the ground, the sky, the plants, and the four seasons." He also turned to sacred traditions, sourcing his patterns and descriptive style from traditional weavings, historic and contemporary construction from the 1890's-1940's and adapted classic ketoh designs for the lids of the elaborate silver boxes he is known for. -A ketoh, or bow guard is a piece of ceremonial jewelry worn on the left wrist that provides protection and good luck.- As a result, he has earned many prestigious awards for his unequivocal celebrated work including Best of Division at Santa Fe Indian Market and was featured in the May 2003 edition of Arizona Highways.
Jennifer was once told by her father that he remembered as a child helping his parents harvest carrots for $.50/day. They were poor and starving, and had to do what they could to make ends meet. He never wanted his children to see hardships like this, and worked very hard to make a good life in order for his family to succeed beyond himself. With only an 8th grade education he excelled as an artist and craftsman who -just like his precision stampwork- deeply embedded a profound mark in the history of jewelry making, raising the standard for quality work and inspiring others to push themselves to greater heights. Thomas was very proud to have Jennifer continue his work, "it was very encouraging to me because it means the traditions are going to go on. Jennifer has always been a Daddy's girl, She went with me everywhere and always showed an interest in everything. In high school she would help me in the shop, and it has turned into a career for her." She traveled many places with her father, including Japan where they preformed jewelry demonstrations and explored much of the island. "I miss my dad a lot, everything about my dad was always a learning situation. Everywhere we traveled he always had something to talk about."-Jennifer Curtis
Jennifer has carved out a reputation for herself creating intensely exquisite jewelry that carries on her fathers coveted aesthetic while simultaneously expressing her own individual approach. Using his set of die stamps, she possesses the same talent as her celebrated father for balancing intense compositions of classic designs with contemporary elegance. Before she stepped into her father's shoes, Jennifer had plans to pursue a career in architecture after she completed her degree in drafting from the Miller Institute in Phoenix. She states her experience with drafting helps to layout her designs, but sometimes it is not enough. Sometimes she still desires help from her father. "Sometimes I get artist block, and I start thinking about him and all of a sudden a design comes to me. His spirit is around me and he helps me." -Jennifer Curtis
When Thomas became ill Jennifer would talk with him about what he would do when he got better. "He always wanted to get back to work. He would say, 'when I get well we are going to make something the world has never seen before.' I think about this a lot. I wonder what he would have created. But I feel like he is with me, exploring new work with me." Thomas Curtis passed away on June 29th, 2013 leaving behind a legacy of stories, jokes, rodeo rides, gifted children and an extensive collection of admirable work that reflects his desire to do as much as he possibly could with his life, and to accomplish things to the best of his ability. He will remain an inspiration for artists of every medium at any point in time, and a shining example of what one can achieve if they put their heart and soul into their dreams and ambitions. We always look forward to receiving a new piece of jewelry from Jennifer Curtis to the Four Winds Gallery, it is a fascinating extension of her father's mastered talent, a gift connecting the past to the future.
Joke from Thomas Curtis, courtesy of Jennifer Curtis:
"We were driving through Gallup and we see a drunk man on the side of the road with a blanket over his shoulder. My dad turns to me and says, 'when your wife gets tired of you and you don't sleep together anymore, that blanket like that man has, that blanket that you sleep with becomes your wife.'
        We laughed a lot."