World famous woodworker, George Nakashima, was born in 1905 in Spokane, Washington, where his parents lived after recently immigrating from Japan.  Nakashima was a leader in the American Arts and Crafts movement of the twentieth century by showcasing his organic outlook on woodworking.  Against mass production, his concept of respecting the wood and giving it a second life, developed not only beautiful, highly sought after pieces, but functional and compelling furniture.
Nakashima's love for the outdoors started at an early age as an Eagle Scout.  This led him to start his education at the University of Washington majoring in forestry and architecture, and in 1930 earned a master's degree in Architecture from Massachusetts Institute of Technology.  Soon after graduating, the Great Depression caused limited jobs in the states and led him overseas to pursue other opportunities.  Nakashima traveled to France, Japan and India.  Throughout his travels, he was exposed to the different architectural elements each area used.  In 1934, while in Tokyo, he worked under architect Antonin Raymond, where he appreciated how he fused traditional Japanese and Western style techniques together.  Throughout his time in Japan he also became more familiar with their spiritual teachings and how to respect and coexist with nature.  In the later 1930s, he was sent to India to help supervise the construction of one of the country's first concrete structures, for the spiritual community organized by Sri Aurobindo.  It was there that he began following the spiritual teachings of Sri Aurobindo, that focuses on discipline of letting go of egotism and materialistic things and becoming one with nature. Although never fully converting to Hinduism, he carried their beliefs, along with aspects of others, on with him back to the states.
Nakashima married his wife, Marion Okijama, after returning to the states and began studying more of America's architectural process and was disappointed in the quality of the workmanship behind the architecture.  This was his turning point in deciding to focus more on woodworking instead of the artitecture, in order to have more control of the quality at the beginning of the process.  Unfortunately, the attack at Pearl Harbor took his plans to a halt, once again.  Along with all Japanese Americans at this time, he, Marion, and their young daughter, Mira Nakashima, were forced to relocate to the Minidoka War Relocation Authority camp in Hunt, Idaho.  While encamped, Nakashima met Japanese carpenter, Gentaro Hikigawa, and worked together to furnish the barracks.  With the help of Antonin Raymond, Nakashima and his family were allowed to be released in 1943.  Raymond invited them to move to his farm in New Hope, Pennsylvania for a fresh start.
It was in New Hope that Nakashima took his past experience of architecture, influencers, and spiritual beliefs and allowed his own free-edge style to emerge in his work.  He opened his shop, began making custom-made pieces for clients, and then started producing larger scale pieces for retailers such as Knoll and Widdicomb-Mueller.  His work became more recognizable and desired, but he was still very strict in overseeing every aspect of the process to insure the quality of each piece.  He also put that amount of care into choosing his clients to work for.  He truly felt that if he gained an emotional connection with someone, it was easier to create a piece of furniture for them.  He found pleasure in wabi-sabi, a Japanese aesthetic that finds the beauty in imperfections.  Instead of following other woodworking styles, he would seek out the discarded pieces of wood such as large roots and pieces with large cracks, where he would use his signature butterfly joints.  He allowed the wood to speak to him and bring life to it by magnifying it's own, natural beauty.  He never used veneers or lacquers, only oil to highlight it's organic grains.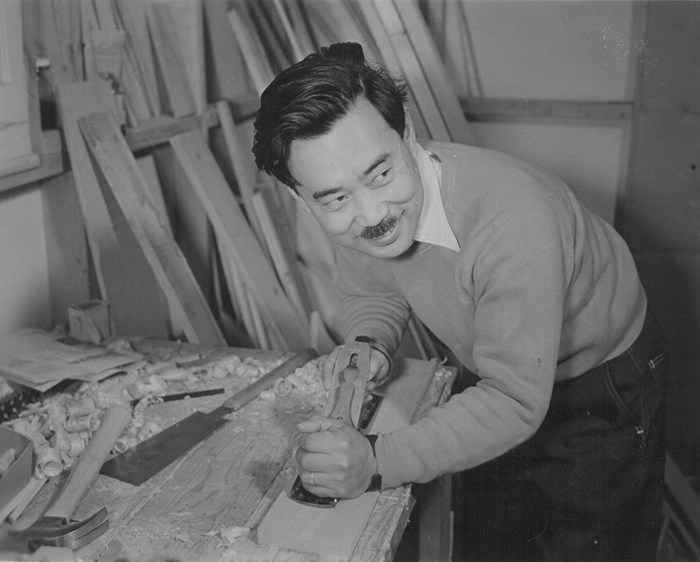 Nakashima's work was never advertised, but spoke for itself and was commissioned by Nelson Rockefeller and the International Paper Company.  In 1984, he purchased a 300 year old American Black Walnut log that he intended on using to build altars in all seven continents as a united symbol to bring peace and unity to everyone.  He was only able to construct one altar before his death in 1990.  His legacy, however, still lives on through his daughter, Mira Nakashima, who is now running his shop in New Hope, Pennsylvania and creating her own pieces that reflect her father's teachings.  In his honor, she also built the Nakashima Reading Room at the Michener Museum in 1993 where his furniture can be seen by all.  Mira continues as Creative Director of the George Nakashima Woodworkers to produce his designs along with her own.
"IT IS A SOUL SATISFYING ADVENTURE TO WALK THE FORESTS OF THE WORLD, TO COMMUNE WITH TREES... TO BRING THIS LIVING MATERIAL TO THE WORK BENCH, ULTIMATELY TO GIVE IT A SECOND LIFE."