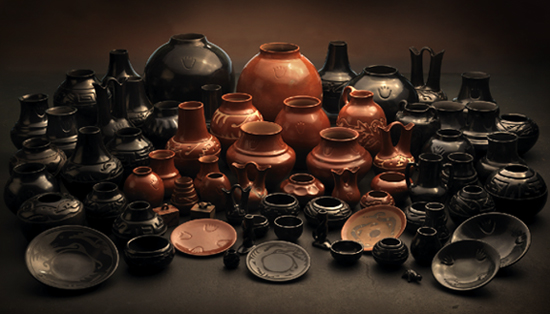 The unprecedented exhibition of ceramics by Margaret Tafoya and her descendants is finally on view in the Southwest!
Born of Fire brings together over 60 pieces created by Tafoya, with additional works by her mother and descendants, and includes rare early works from Santa Clara Pueblo. We are grateful to the Ceramics Research Center at the ASU Art Museum for recognizing the value of bringing this impactful collection to the Southwest, where pottery has historically been an integral aspect of Pueblo culture. As the premiere contemporary ceramics museum in the country, the CRC especially honors Tafoya by displaying her work in this prestigious venue which transcends specifically Native American artwork.
 
One of the most accomplished potters of the 20th century, Margaret Tafoya (1904-2001) sustained the ceramic tradition of her Santa Clara Pueblo ancestors by transforming it from a process for making functional vessels to an art form. Tafoya created large, polished wares that are simple yet elegant, reflecting a harmonious union of history and modern aesthetics. Tafoya used local clay and the age-old techniques of coiling and wood-firing. In addition to honoring ancient customs, her pottery is equally germane to modernity. Her red and black wares are highly polished and often bear little decoration, save for a recurring incised bear paw, a trademark of the Tafoya family.
Tafoya believed that clay has a spiritual presence able to sense the virtue and history of the potter. In her words, "You have to have a good heart when you sit down to make this pottery; you have to live a good life. The pottery knows."
Tafoya's legacy is further revealed in her descendants' commitment to continuing the ceramic tradition. Re: Generation: A Survey of Margaret Tafoya's Descendants highlights stellar examples of work by Tafoya's children and grandchildren. They include Shirley, LuAnn, and Lee Tafoya, Mary Ester Archuleta, Virginia Ebelacker, Toni Roller, Jennie Trammel, and Mela, Nancy, and Nathan Youngblood, among others.
"Excellence was the operative word. She raised the bar so high 
and required the next generation to rise to that level."   
                                                        – Nancy Youngblood, granddaughter
–>
Reception and book signing
February 8, 2013  6 – 8:30pm
On view through April 20, 2013